Jeff Poirier is an American media professional studying journalism at New York University. His background includes local newspaper, broadcast and digital production. Most recently, he was a digital platform manager at ESPN, where he also wrote and edited breaking news alerts.
My name is Jeff Poirier … and I come from nowhere in particular. I'm American, which is a self-contained identity for some, but not for me. If you ask where I'm from, I might say, "it's complicated."

Where was I born? Rhode Island

Where did I grow up? Arizona

Where did I become me? California
Where am I now? New York
My life has been nomadic. I've lived in six different U.S. states with seventeen different home addresses. That transience meant I was constantly uprooting and re-rooting in new places with new people. It also means "where I'm from" was never a significant part of my identity.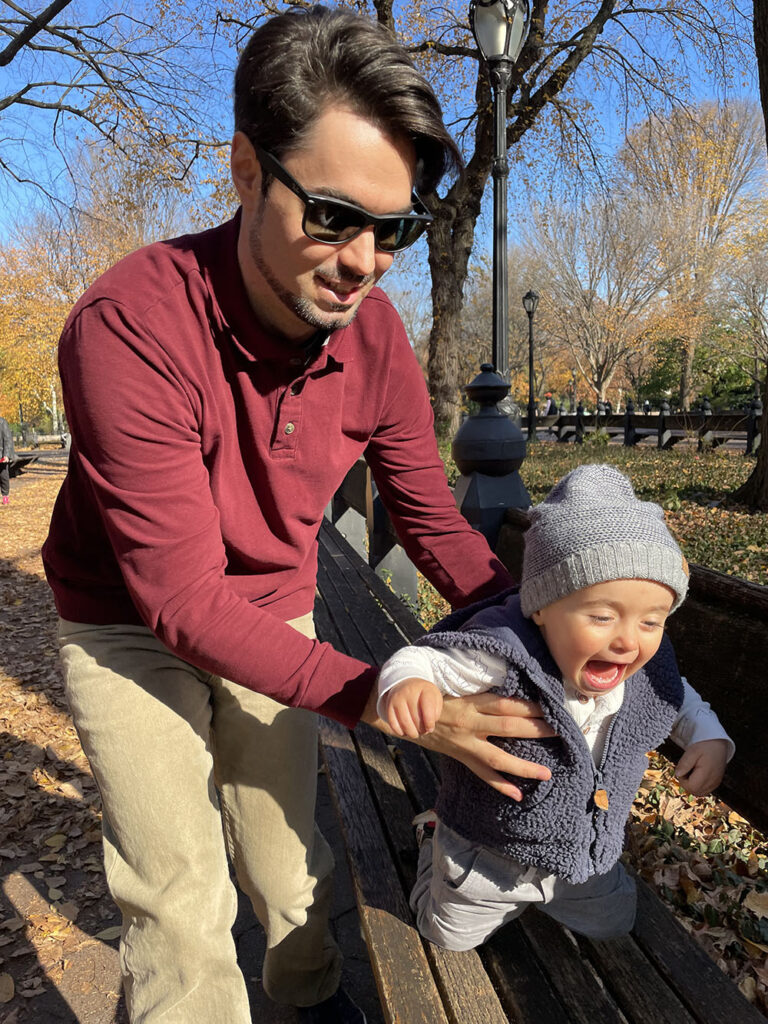 Instead, I've looked elsewhere for a sense of place.

After finishing college at UCLA, I was convinced I needed an interesting job at an impressive company. Who exactly was I trying to impress? No idea. But the urge uprooted me again, pulling me across the country to work at ESPN. I left behind the closest friendships of my life, and my future wife, in search of something.

After seven years in sports media, I'm still searching.
Now, as I embark on my journey in journalism at NYU, I'm trying to define not where I'm from, but where I'm coming from. Why now, at the age of 31, am I pressing reset on my career? Why now, with a wife and baby at home, am I entering an industry in the throes of financial crisis?

To be honest, I can't answer those questions quite yet. All I can do is look back and analyze the fragments of fading memories that have formed into a kind of belief system.

Ironically, it started with Fox News.

My early political opinions were forged in the aftermath of 9/11, watching The O'Reilly Factor every night with my dad. I never enjoyed Bill O'Reilly's shtick or his politics, but devoid of other voices, I unknowingly internalized some of his talking points over the years.

In retrospect, I don't know why O'Reilly was on in my house because my whole family leans heavily left. (At least they do now.) Perhaps we were swept up in Shock and Awe nationalism. Nonetheless, Fox News was the political soundtrack playing through my formative years.

As I inched closer to adulthood, I started to see news and politics through my own eyes.

I came of age in 2008, during Barack Obama's rise to political stardom. I attended an Obama rally in Phoenix that year, which was packed with young, energized progressives chanting 'Si, Se Puede'! It was an intoxicating experience. It was also the first and last campaign event I've ever attended.

I don't care for politics. I vote in national elections and do my best to read the local voter's guide before heading to the polls, but I find "politics as sport" exhausting. I'm a registered Democrat but not a party-line voter. In the last two presidential elections, I found myself voting against one candidate, rather than for the other.

Frankly, I'm disillusioned with American democracy, not in principle, but in practice. I believe in the American experiment and the ideals set forth in the Constitution. I believe the individual liberties laid out in the Bill of Rights are critical for this country to survive, which is not a foregone conclusion.

I also believe:
Without the establishment clause of the First Amendment, the United States would look more like a theocracy than a democratic republic. Even still, the religious majority uses its cultural capital to influence legislation and codify their beliefs into law. This is deeply unsettling to me.
The Second Amendment has been co-opted as a political rallying cry by those who would benefit financially from arms manufacturing. I believe the definition of a "well-regulated militia" allows for constitutionally valid gun control measures that do not infringe upon the right to bear arms.
The U.S. is trending toward a police state and the right to peaceably assemble is under attack. I do not believe in "abolish the police" but I do believe funneling military surplus to local law enforcement agencies isn't meant to "serve and protect" the people.
Protections from the Fourth, Sixth and Eighth Amendments are not equitably enforced. Stop-and-frisk, cash bail and excessive pre-trial jailing disproportionately impact the poor and people of color. I believe for-profit prisons to be morally suspect and possibly unconstitutional.
Freedom of speech and a free press are the cornerstones of a functioning democracy. The orchestrated denigration of the news media as the "enemy of the people" is an echo of authoritarianism. We should all be concerned with how quickly the tactic took hold.
Like I said, I don't care for politics. But I do care for the rule of law, if those laws are written and enforced according to the equal protections clause of the Fourteenth Amendment. This is where my personal beliefs intersect with my interest in journalism.

As it stands, I believe much of the media industry is falling short of its duty as a free press, worthy of the protections granted by the Constitution. Working in corporate media, I saw first-hand how business interests can influence how a story is framed, or whether there is a story at all.

Of course, I was working in entertainment, so the impact of such decisions on our low-stakes sports stories was minimal. The same can't be said for the hegemonic institutions of news and politics that hold sway over public opinion, civic participation and — in some capacity — policy. Such institutions need to take a side, specifically, the side of the people. The obsession with objectivity at-all-costs has a cost.

In my opinion, journalism is not objective; it is pro-democracy. Journalism is fair; and journalism is fact. But journalists are not unfeeling stenographers, resigned to idle observance while anti-democratic actors degrade the very document that gives the press its power.

As I consider the future of journalism, which in turn means the future of American democracy, one thing is clear: activism in the defense of our national identity is okay. The free press is expressly protected by the Constitution; it's time for the press to return the favor and protect the other freedoms therein.

That form of journalism is a future I want to be part of. The search is finally over.

And that's where I'm coming from.
To learn more about Jeff and his work, connect with him on LinkedIn.